Robert Bohm, Miami's most recent Purple Heart recipient waited a long, long time for his honor. Robert served in World War II.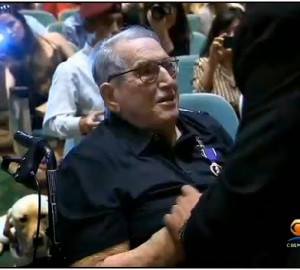 Now living in Palmetto Bay, Robert (Bob) finally became a recipient of the Purple Heart on August 23, 2014. He waited 70 years for this meaningful award. He is now 93. Bohm suffered a traumatic head injury which left him unconscious for several weeks.
The award brought back many memories from WW II; some good memories and some sad ones illustrative of the tragedy of war.
Much of the military's personnel paperwork was lost in a fire many years ago, resulting in the loss of the reports that would have led to the award  much earlier in Robert's lifetime. His daughter, who was diligent in her follow-through, was able to get the attention of the correct military officer who listened to her father's story. The result of all her tenacity came to fruition on August 23th at an award ceremony in honor of Bohm at Unity on the Bay Church in Northeast Miami-Dade County.
The award was pinned on by four star General Peter Chiarelli during at the event.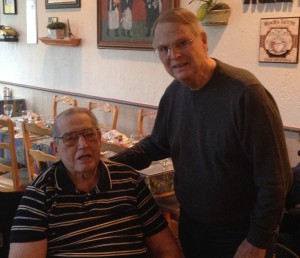 During a recent evening out in Palmetto Bay, Robert Bohn was introduced to Vietnam Purple Heart recipient Bob Messer of Homestead. Bob Messer received his Purple Heart in 1982, for military action that took place in February 1966.
Both Army veterans, the two purple heart recipients had a lot to say to each other. Messer represents the third generation of Army commanders from his family, so Bohm and Messer were looking to find that common thread of military friends that spanned the two wars.