It's that time of year again! May always brings our friends from Benefit Car shows and their annual fundraiser for the museum!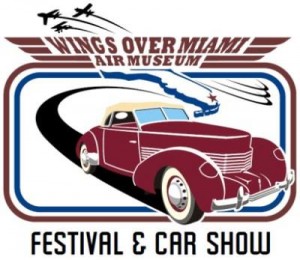 The May 23rd car show is a special event that we look forward to each year as it is a relaxing day filled with a wide variety of amazing automobiles, some great music and unique planes.  Wings Over Miami always looks forward to having planes fly-in (or taxi over from other hangars) for a bit of aircraft "show and tell",  as well.
To sign-up for the car show portion of the event please go to www.benefitcarshows.com and follow the instructions. Vendors are welcome and need to sign-up through the car show site.
Every dollar raised by the event sponsors, the car exhibitors and the public goes directly to the museum. It is very important to get the word out to car aficionados, pilots and your friends! Every dollar helps the museum.
The event runs 10:00 am to 3:00 pm.  To see the cars and airplanes it is always a good idea to be at the event earlier in day.  The cars will be gone by 3:15; these folks don't hang around long after the trophies are awarded.
There is a entrance fee for the public ($10 for adults and $5 for children 12 and under). The car exhibitors will have their entrance costs rolled into their donation to the fundraiser.