The Collings Foundation Wings of Freedom Tour will fly into Wings Over Miami at the Kendall-Tamiami Executive Airport in Miami, Florida for a visit from February 5-7, 2014. The Foundation's fly-in is a great way to garner a knowledge of military history and get a close-up look at planes that do not often visit South Florida .
The aircraft visiting will include the Boeing B-17 Flying Fortress "Nine O Nine" WWII Heavy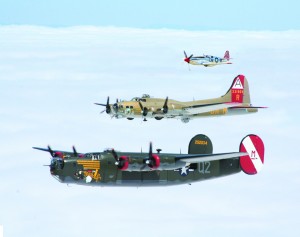 Bomber, Consolidated B-24 Liberator "Witchcraft" WWII Heavy Bomber and a P-51 Mustang.
This is a rare opportunity to visit, explore, and learn more about these unique and rare treasures of aviation history. The B-17 is one of only 10 in flying condition in the United States, the B-24J and Full Dual Control P-51C Mustang are the sole remaining examples of their type flying in the World.
The Wings of Freedom Tour is tentatively scheduled arrive at the airport early afternoon on Feb 5th and will be on display at Wings Over Miami Air Museum at Kendall-Tamiami Executive Airport until the aircraft departs February 7th around noon. The schedule will be updated as soon as the tour's prior engagement is determined.
The 30-minute flight experiences are normally scheduled before and after the ground tour times listed. The foundation raises money for their flying museum by offering rides on the warbirds. Click here to go to the Collings Foundation website for more information about the aircraft and costs of flights and tours.
Please note that the museum entry fees will increase to $12 for adults and $6 for children 12 and younger during this special visit. The additional donations help bring the planes to the museum by helping to cover additional operational costs for the museum and covers the tour of the bombers.
Watch Facebook or this website for any changes or updates.