Whew, finally after many many hours of waiting, all three wonderful Collings planes made it to our ramp. The bombers had such an enthusiastic fan base in Naples that it held up their departure to Miami.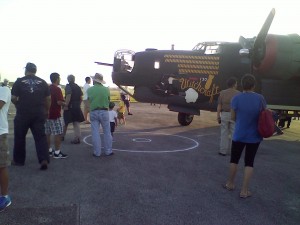 Hopefully, Miami's reaction to the bombers will be just as warm and busy!
With all the waiting, museum visitors made friends with each other. We had one lovely couple from Britain who tried out the county "transit" system. They rode buses, the MetroRail and then couldn't get the the museum via bus — so they finished the trip with a taxi. By the end of the day, another wonderful museum visitor took the couple to the MetroRail station that linked to their bus, so they could go back to the Beach faster! How Cool!
There were children everywhere. Some of them were very surprised when their parents popped into school to pick them up early. What a treat!
The airport tower deserves a "shout-out". They took the time to let us know when the planes were close in, so we could make sure every one could watch them land! It was much appreciated and allowed us to make sure everyone was tucked safely out of the way.
There was nothing like watching these birds land and taxi in. It was an experience for non-aviators to hear the engines and feel the air stirred up as they passed.
Tomorrow (Thursday) the planes will be flying if we can fill them up with enough passengers to pay the way. One gentleman is looking forward to his 5th flight!
Also, we are expecting several WWII veterans on site tomorrow around lunch time. One 91 year old veteran flew in from Naples on the P-51 today, amazing flight for him.
Cost for the museum and aircraft tours is $12.00 for adults and $6.00 for children. Flights in the bombers can be arranged through the Collings Foundation.