Tours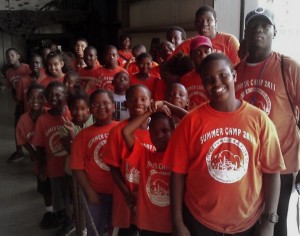 A tour of Wings Over Miami can be arranged for any age group by appointment by calling the gift shop at least five business days prior to your planned trip. When a greater lead time is given, the museum is able to work with teachers to develop tour programs that fit their curriculum.  Even without the need for curriculum, it is helpful to know if the tour is focusing on the elements of flight or the historical aspect of the aircraft and the ages of the group when we are providing a guide.
A tour guide or a pilot can be assigned to your group. A tour typically lasts an hour without special activities scheduled. Wings can provide space for class time follow-up or tables to eat bagged lunches provided reservations are made ahead of time.
Payment
Payment can be made the day of the visit or in advance by credit card, cash or business check made out to the Wings Over Miami Air Museum. Payment must be received by the museum before entrance to the museum hanger area. Please call (305) 233-5197 for information on group rates.
Guidelines for a Student Tour
There should be a ratio of at least one adult to every 15 students in a group.  More chaperones may be required depending on the age of the students.
Most of our planes fly, therefore we are very careful around them and treat them with a strict hands-off policy.  The students will be within feet of some of the planes, but they will not be able to enter the roped off area.  The hangar is a working hangar so there may be restoration activities ongoing while you are there which will be interesting, however, unless invited to cross the rope by the tour guide, everyone must stay behind the line.
Additionally, the hangar opens out into a large area that leads to an outside exhibit and the actual airfield. There are boundaries on the tarmac and everyone is expected to abide by them. Students are expected to stay with their groups when at the museum. Please keep this in mind when you are prepping your students for the tour.
Wings Over Miami has no tolerance for anyone who disregards our safety guidelines; we will ask them to leave the building.
No food, beverages, gum or candy is allowed in the hangar or gift shop areas.
<![CDATA[ var _gaq = _gaq || []; _gaq.push(['_setAccount', 'UA-24181784-1']); _gaq.push(['_trackPageview']); (function() { var ga = document.createElement('script'); ga.type = 'text/javascript'; ga.async = true; ga.src = ('https:' == document.location.protocol ? 'https://ssl' : 'http://www') + '.google-analytics.com/ga.js'; var s = document.getElementsByTagName('script')[0]; s.parentNode.insertBefore(ga, s); })();// ]]>