Don't miss out!
You have only a day and half left to visit the museum and the Collings Foundation Bombers.  Take advantage of the admission discount and get to see both Wings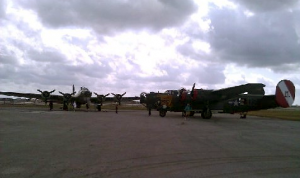 Over Miami and tour the bombers for one low entry fee. The cost for both activities is $15.00 for adults and $10.00 for children.  This visit is a fund raiser for both the Collings Foundation and the Museum.
These planes will not fly forever. These are the last B-24 and B-17 flying — your next opportunity to see them may be only in a museum.  Come on out and support the mission. Help keep the planes flying!
We have extended Museum hours from 9 a.m. to 5 p.m.