Tamiami Composite Squadron was originally chartered in 1980 as Tamiami Cadet Squadron and was the brainchild of Cadet Mitchell L. Hayes. Major Hayes was then the Cadet Commander of West Miami Cadet Squadron under the command of Captain Robert Flanagan. The desire of both officers was to see a new squadron formed for the purpose of building a flight training program for cadets. Their unit was meeting in a public school building on weekday evenings; the facilities and meeting schedule made flight training a difficult, if not impossible. The concept of a squadron meeting on an airport was researched and Mr. John Mangialetto of the IFSS (International Flight Service Station) made his FAA facility available in support of the project. The unit later moved to its current home at Wings Over Miami Air Museum at the Kendall-Tamiami Executive Airport.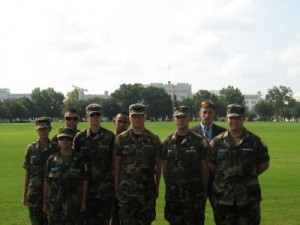 Since the formation of the unit in 1980, Tamiami Composite Squadron has become a pace setter in Civil Air Patrol. Their innovative efforts produced a fully funded flight training system which turned out an average of six solo qualified Cadet pilots per year, several private pilots and hundreds of hours of orientation flights for Cadets.
The unit produced the first audio-visual training course for the L-PER direction finding equipment; their personnel devised and produced the first Florida Solo Encampment in 1982. Additionally, the squadron members have placed in the top percentages in Wing-wide competition, and their record for scholastic placement has been excellent. This group has members attending the United States Air Force Academy, Georgia Tech, VMI, the United States Naval Academy, the Citadel and other fine institutions.
The motto, "Teamwork Gets the Job Done", was their founding motto and is seen in the spirit and dedication of every member of the Cadre. Today, the motto has evolved into "Vendi, Vidi, Vici" which means "We came, We saw, We conquered".  Their squadron program is conducted in a military atmosphere of discipline and dedication to duty with plenty of time to enjoy less structured activities.
In the Cadet program, they strive to play a major role in the development of each cadet member by providing an environment which will present constant challenges. Academic excellence is required and rewarded at all levels.
Senior members are provided with training opportunities to enhance their aeronautical skills and prepare them for service in search and rescue. Each member has equal opportunity and is encouraged to work beyond his or her apparent abilities and is fully supported in those efforts. The program's goal is to build effective leaders with genuine qualifications to support their assigned humanitarian and educational missions.