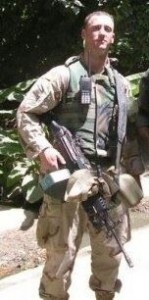 In every museum, volunteers are special people. At Wings Over Miami, we have an extraordinary volunteer who is serving the community through his commitment to the museum. Barry Offenburger is not only a young veteran from the Afghanistan conflict, but a miracle on two feet.
Barry's road to the museum was long and scary. He was in Afghanistan serving in the Army and feeling ill, but the doctors wrote it off as stress. During this time, Barry and his unit were involved in a vehicle accident coming back from a security mission which resulted Barry's back being fractured.
This accident would eventually save Barry's life. He was sent from the front to Germany for further examination and it was there that the doctors found that Barry had stage 4 stage Hodgkin's Lymphoma. Six years later Barry is in remission and in good health.
Coming home was to Miami was important to Barry's amazing healing process.  After many years of therapeutic care and soul searching, Barry became involved with The Wounded Warriors and another wonderful organization called The Mission Continues.
It is through The Mission Continues that Barry's path led to Wings Over Miami.  The Mission Continues is the only national nonprofit challenging post-9/11 veterans to rebuild a sense of purpose through community service. Barry received a fellowship to work with Wings Over Miami and has become a devoted volunteer bringing us energy and creativity.
Barry is giving of himself and gaining self-confidence along the way. Recently, while speaking of some experiences from his fellowship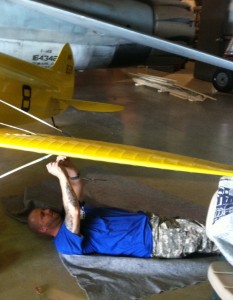 position, he shared that his role of interacting with our museum guests "is extremely important to me because after coming home from the military I found it hard to talk to people". He also felt that he could bring to the museum his sense of teamwork and mission that his Army experience instilled in him.
Having earned his private pilot's license, Barry is now pursuing a commercial pilot's license and hopes to find a new career in aviation. We hope that Barry finds continued good health, the aviation career of his dreams and an unrelenting love for the museum. Wings Over Miami needs dedicated people like Barry who have a passion for aircraft and a heart for the community. Hooah, Barry!