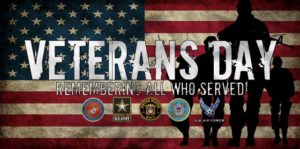 Veterans Day is the culmination of celebrations and parades which honor those men and women who have served, and who are currently serving, our nation in the military. Although November 11th is the day that the holiday is observed, many local and national events proceed the actual day. Throughout the nation, our veterans are remembered with parades, picnics, and other public events.  This holiday differs from Memorial Day in that it celebrates our active duty and reserve military men, women and their families while acknowledging the contribution of those service people lost during their commitment to our nation.
This holiday is similarly celebrated worldwide as this day also serves to acknowledge the end of World War 1. The formal end to WW1 was on the 11th month, 11th day and 11th hour of 1918.
On November 11, 1919, President Woodrow Wilson proclaimed the first celebration of Armistice Day, in honor of the WW1 veterans.
In June 1926, Congress requested that President Coolidge create the holiday permanently. On May 13, 1938, a Congressional act set the date and day onto our national calendars.  It wasn't until 1945 that the holiday evolved from being recognition of WW1 veterans to the current holiday during which we express our gratitude to the Armed Forces and their families without regard to which years they served our nation.