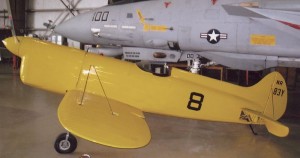 Welcome our charming Brown Racer Home!  The Brown Racer has been on loan to History Miami for its aviation exhibit. She is back in our hangar positioned next to the Demoiselle and tucked neatly under the wing of the Tom Cat.  Our Facebook page has some photos of the plane being rebuilt after its return to the museum.
This original B-1 Brown Racer NR83Y was donated to our museum courtesy of the Louis G. Russo Estate.
Manufactured in 1933, this aircraft, in addition other racing accomplishments, won the 1934 Miami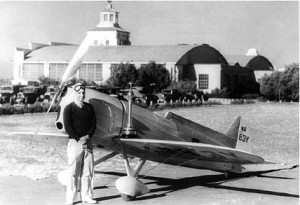 All American Air Races,  held at the old Miami Municipal Airport.  This little aircraft was piloted by famous race pilot Ralph Bushey.
If you look at the plane, the area for the pilot to sit is extremely narrow. In fact, a pilot needed to be jockey-sized to fit in the seat and even then there was little room to spare.
Lawrence Brown, of Santa Monica, California, experimented and designed a number of highly regarded race planes in the 1020's and 30's. His best known racers were the Brown racers designated as the B-1, B-2, and B-3.
var _gaq = _gaq || []; _gaq.push(['_setAccount', 'UA-24181784-1']); _gaq.push(['_trackPageview']);
(function() { var ga = document.createElement('script'); ga.type = 'text/javascript'; ga.async = true; ga.src = ('https:' == document.location.protocol ? 'https://ssl' : 'http://www') + '.google-analytics.com/ga.js'; var s = document.getElementsByTagName('script')[0]; s.parentNode.insertBefore(ga, s); })();