"We should guard their graves with sacred vigilance. Let pleasant paths invite the coming and going of reverent visitors and fond mourners. Let no neglect, no ravages of time, testify to the present or to the coming generations that we have forgotten as a people the cost of a free and undivided republic." ~ Major General John A. Logan, 1868.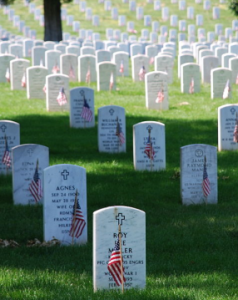 Memorial Day, which is observed on the last Monday of May, commemorates the men and women who died while in the military service. In observance of the holiday, many people visit cemeteries and memorials, salute our military with parades and volunteer to place American flags on each grave site at national cemeteries.
May 2000, in an effort to remind us that Memorial Day is a solemn event, a National Moment of Remembrance was instituted by the President. At 3:00 p.m. local time, everyone throughout our nation is asked to stop to reflect on the tremendous sacrifices made by our military members and their families.
On Memorial Day, it is also traditional at the break of dawn, to raise the flag crisply to the top of the staff and then slowly lower it to the half-staff position where it remains only until noon. It is then raised to full-staff for the remainder of the day. The half-staff position remembers the more than one million men and women who gave their lives in service of our country.   At noon, as the flag rises to full staff, the memory of  our military
Wings Over Miami hopes that you will join with our nation in the remembrance and acknowledgment of the devotion of our fine military men and women who have so bravely served our country.