Back in December 2016, several of the planes housed in the museum participated in a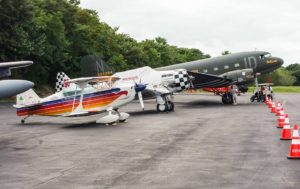 "Vintage Weekend"  featuring yachts, automobiles and planes. The crowds shared the excitement of a mini-airshow on the beach at Ocean Reef, a community in North Key Largo in the Florida Keys. 
The activities included an outstanding show with cars from as far as the northeastern United States, large vintage yachts docked near the cars and an air show featuring guests from around the state as onlookers munched on lunch and looked skyward. Walter H. Orth, Jr., one of founding members of Wings Over Miami, was in charge of the airside event and pulled off another success story.
To get a glimpse of the great (but private event) you can click here to visit Flyingmag.com write up about the event and planes. If you would like to see the winning  yachts as well as the cars, visit this link for a look at some sweet antique transportation.
And for more photos and a story written from a fan who loves his cars as much as we love our planes, you can share the fun by reviewing this account by Mark Elias.