Vincent Tirado, Jr. was born in Aguadilla, Puerto Rico and raised in Brooklyn, New York.  He graduated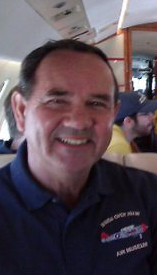 from Aviation High School in New York City, a well know aviation technical high school. Vinnie attended Pace University in New York City before joining the New York City Police Department in 1968. He became the first Hispanic NYC Police Pilot flying from Floyd Bennett Field and was assigned as Mayor John Lindsey's personal pilot. Vinnie then joined the US Customs Service in 1976 flying fixed wing and rotorcraft from Republic Airport on Long Island.
In 1980, he was reassigned to Homestead Air Force Base in South Florida flying Huey Cobras, UH-60 Blackhawks, light twins, King Airs, and Citations on drug interdiction missions. He later became Deputy Branch Chief and retired from the US Customs Service in 1996. He then became Managing Director of the Weeks Air Museum in 1997. After the Weeks Air Museum closed in 2001, Vinnie was instrumental, with three other aviators, in founding and opening the Wings Over Miami Museum, and was named Managing Director. Vinnie currently sits on the Board of Directors, and can be found almost daily at the museum.
Vinnie holds an ATP license in rotorcraft, a commercial license in fixed wing, an instrument rating, is a Certified Flight Instructor in fixed wing and rotorcraft, an A&P, is a certified formation wingman and has amassed more than 7000 flight hours. He attended the University of Southern California and is certified in many phases of Aviation Safety Management, including fixed wing and rotorcraft accident investigations.
He and his son, an airline pilot, restored a WWII North American AT6D trainer that resides at Wings Over Miami Museum. He enjoys aerobatics and formation flying, is a specialist in restoring, maintaining and flying various warbird aircraft and is an ordained Episcopal Deacon. Vinnie and his wife Delia have three grown sons and live west of Miami, Florida.