Larry M. Ploucha, Secretary and Legal Counsel
Larry Ploucha always wanted to fly and began taking lessons right out of high school.
He is one of the four pilots who founded the Wings Over Miami Air Museum in 2001 and was appointed to its board that year as the museum's secretary and legal counsel, a position he currently holds.
A pilot since 1968, Larry has over 3,600 flight hours. He is president of the Alman Bonanza Flying Club based at Miami Executive Airport, which gives its members a chance to fly airplanes for both business and pleasure. Larry is also a member of other aviation-related organizations including Aircraft Owners and Pilots Association and Experimental Aircraft Association.
Certifications Larry holds include Airline Transport Pilot (ATP) and aircraft and power plant mechanics. He also holds ratings in airplanes, seaplanes and gliders and is a Certified Flight Instructor and Ground Instructor.
Larry has been a lawyer since 1978 and is also a stockholder in the law firm of Buchanan Ingersoll & Rooney in Fort Lauderdale.
Larry earned a bachelor's degree in aviation engineering technology/management from Western Michigan University in 1972 and a law degree from Thomas M. Cooley Law School in 1978. He also received a master's in taxation from the University of Miami in 1980.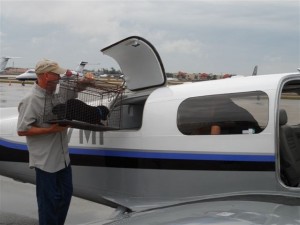 Flying is a great joy for Larry and he often flies for charity. Frequently flying to the rescue, Larry is also a volunteer pilot for Pilots N Paws, an organization that transports animals to locations where they will be adopted rather than euthanized.
Larry is also known for his great sense of humor and his affinity for rock bands.