Fred E. Schlafly is a retired Commander from the Miami-Dade Police Department. During his career, Fred was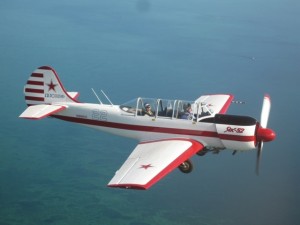 a  detective, investigator, and administrator in charge of numerous major entities within the department.
He has a Bachelor of Chemistry from Columbia University in New York, and Master of Public Administration from the University of Miami.
Flight credentials include a Commercial license for single/multi-engine land, rotorcraft (helicopter), instrument, Certified Flight Instructor, Advanced Ground Instructor, and formation flight leader certification. He owns a Russian Yakovlev (YAK-52) aerobatic military trainer (which he uses in air shows and formation flying), and a Cessna Cardinal 177RG. Several thousand hours of flight time have been accumulated.
He is a past Adjunct Professor for the Aviation Department of Miami-Dade College, a past president of the Tamiami Aero Club, and currently a check pilot for a local Beech Bonanza flying club.
Fred, along with his wife Sheila, have assisted with the coordination of, and participated in, all the past air shows at Wings Over Miami Museum.
Hobbies include, in addition to flying, scuba diving, snow skiing, sport car driving (Porsche),  hunting, hiking, working out at the gym, and reading a good spy novel.